Main piling ceremony for new mechanics factory in Thailand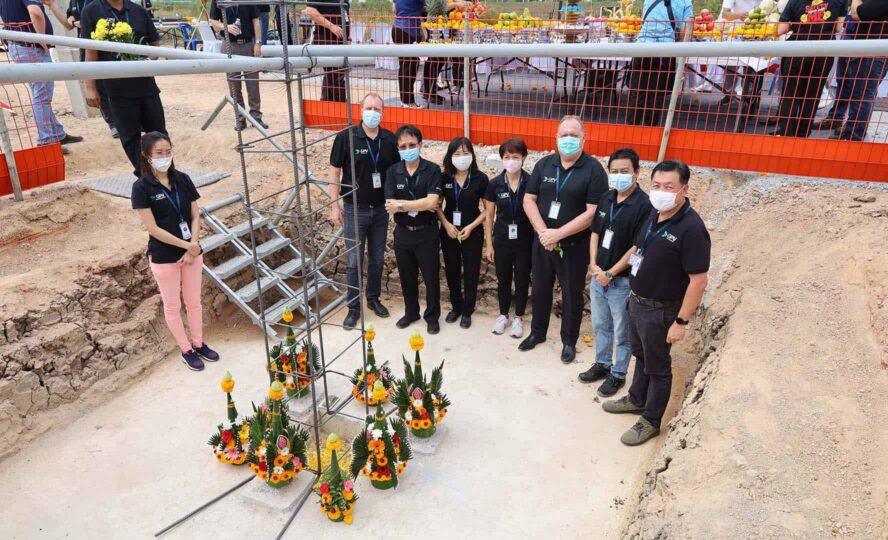 In the beginning of May, GPV Mechanics in Thailand celebrated the main piling ceremony of the new 12,000 m2 mechanics factory. The ceremony was arranged according to Thai culture and the spiritual ceremony lead by a local "Brahman".
At the ceremony, all participants gave praises to the new factory and for a smooth and safe construction work. The new factory will be a state-of-the-art facility fitted for mechanics manufacturing and with room to grow further.
"We are very much looking forward to serving our customers from the new factory in 2023. The main piling ceremony is an important first step in going forward with the construction work. Safety of our employees is key, and so is the safety of all involved in the construction of our new production facility. Our ambition is to execute the building construction with zero LTIs," says Bjørn Fiskers, Managing Director at the Electronics and Mechanics sites in Thailand.
GPV currently has 7,100 m2 mechanics production and 15,000 m2 electronics production in Bangkok, Thailand. When finished, the mechanics production will be 12,000 m2 and the electronics production will be 22,000 m2.
Apart from the expansion in Thailand, GPV is currently building a new electronics factory in Sri Lanka. When the new factory is finished in beginning of 2023, it will comprise of a total of 11,300 m2 electronics manufacturing facility. GPV will have approx. 100,000m2 of production under roof when both expansions are finished.
"The expansion projects in both Sri Lanka and Thailand are important steps on our growth journey. It is important for us to have a strong operational footprint to be able to meet our customers increasing demands and continue to deliver high quality-products," says Bo Lybæk, CEO at GPV.
Sign up and receive the latest news straight in your inbox.