Factory expansion: Solar cells to reduce GHG emissions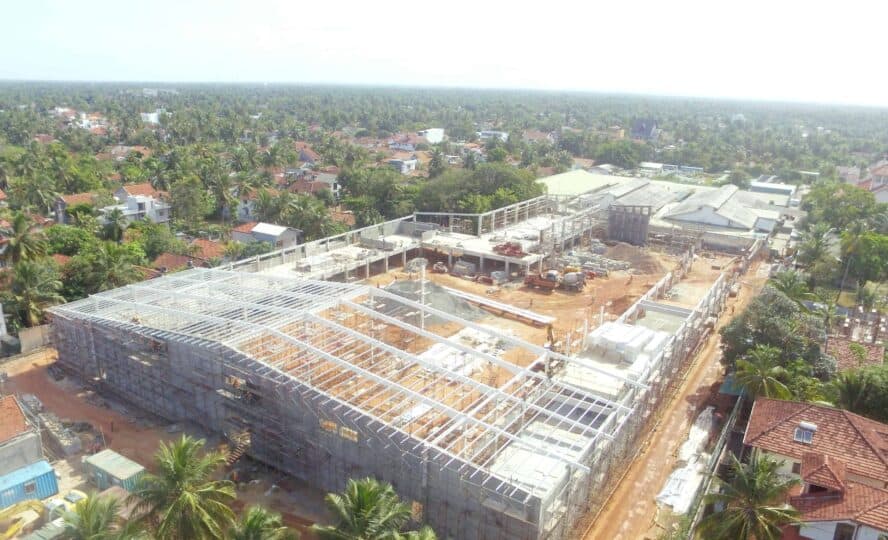 The expansion of the GPV electronics factory in Sri Lanka is progressing according to schedule and by mid-August 2022, the expansion is approximately 40% complete. The next major step of the construction is the roof installation, which has already started. When the construction is finished, the new factory will comprise of 11,300 sqm with state-of-the-art production facilities. The factory is scheduled to be completed in Q1 2023.
Learn more about our locations here
Our site in Sri Lanka is situated strategically well to serve customers with use of high-mix volume electronic production of box-build solutions as well as EMC (Electro-Magnetic Compatibility). With the expansion of the factory, it will also be possible to serve cable-harness customers.
"We are very excited about this expansion as it allows us to serve our customers from a state-of-the-art production. Besides, we are very proud that so far, we have 250,000 work hours with zero lost time injuries, as we have a high focus on safety and aim to finish the construction without any lost time injuries," says Chandana Dissanayake, Managing Director at GPV Electronics LK
To support our increased focus on sustainability, we are installing solar cells on the roof of the new facilities to help reach our goal of a 50% reduction of GHG emissions from our 2020-baseline towards 2025. The solar cells are expected to help reduce GHG emissions by a substantial margin. The factory has already been approved for 1.4MW capacity, and the tender is currently in process.
Read more about our environmental profile here.
"At GPV, we work strategically with sustainability to the benefit of both our planet and our business, supporting our customer's ambitions all the way. By installing solar cells on our new facilities both in Sri Lanka and in Thailand, we are taking a strong step in the right direction," says Bo Lybaek, CEO at GPV.
Sign up and receive the latest news straight in your inbox.