Handover of new mechanics factory building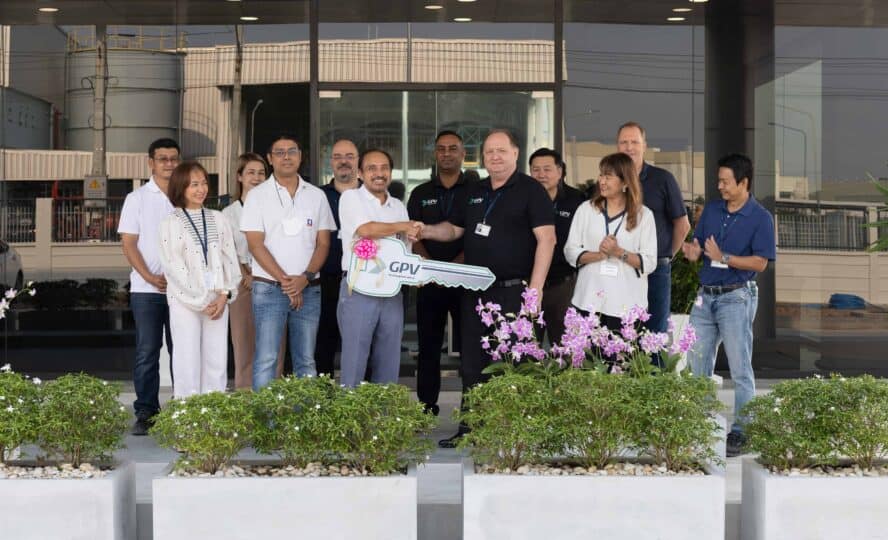 On 17 March 2023, Bjorn Fiskers, MD at GPV Mechanics TH in Thailand and his team were handed the keys to the new 12,000 sqm mechanics factory by our construction company RITTA.  We now start to take the new mechanics factory in use, and we expect it to be fully operational by the end of April 2023.
As prescribed by traditional Hindu culture, a Brahman conducted the Spirit House Ceremony at the new mechanics site, blessing it according to the Thai culture.
"We are very proud of our new factory, and we are eager to get our production up and running in the new facility. The team is ready to move into the new factory and to start serving our customers from there", says Bjørn Fiskers, Managing Director at GPV Electronics TH and GPV Mechanics TH, both situated in the Bangkok area.
The new mechanics factory is 12,000 sqm, which is almost twice the size of the current mechanics facility. After moving into the new factory, the current mechanics factory will be refurbished to electronics production and become part of the current 15,000 sqm electronics factory. Combined, the electronics production site will comprise of 22,000 sqm production.
"The completion of the first of the two construction projects in Thailand is an important step in increasing our production capacity and strengthening our operational footprint. The new factory includes state-of-the-art equipment so that we can meet our customers' needs within uniquely specialised mechatronic solutions and box-build. I am proud to see our team work with such dedication to ensure operational excellence", says Bo Lybaek, CEO at GPV.
To align with the GPV's growing focus on sustainability, the new factory is equipped with its own solar cell systems for electricity production.
Sign up and receive the latest news straight in your inbox.