Progress of new mechanics factory in Thailand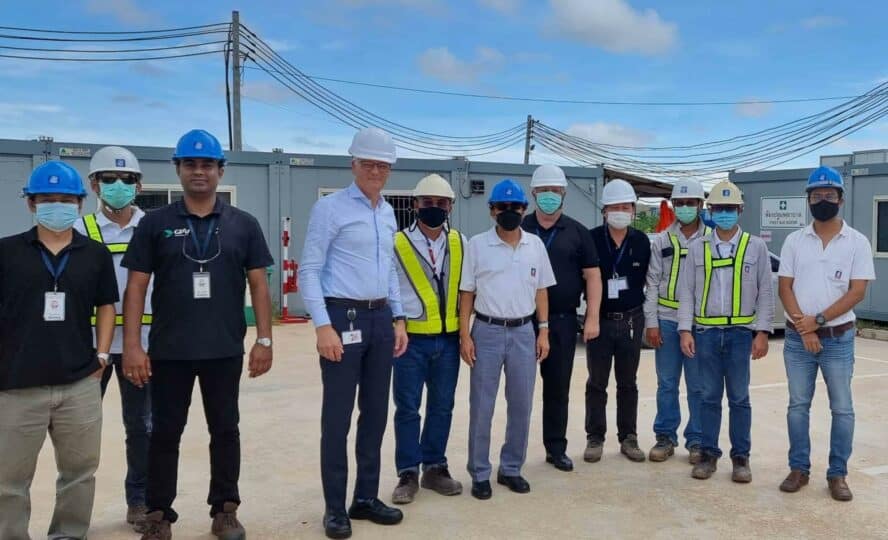 The construction of the new mechanics factory in Thailand is rapidly progressing. As of July 2022, the piling of the new mechanics factory in Thailand has been completed. Right now, the lobby, second-floor office and canteen, high-precision area, utility building and loading bay are progressing according to plan. The roofing of the entire factory is expected to be finished in September 2022.
All work with the pre-casted materials such as columns, beams and walls, as well as steel structure are manufactured, and the progress continues as planned. Moreover, the piping for the fire protection sprinkler system and the sanitary system along with the electrical work are also progressing as planned.
"Even though, there has been minor delays, we expect the new factory to be finished by mid-March 2023 as planned. We are very much looking forward to moving into the new facilities and to serve our customers from there," says Bjørn Fiskers, Managing Director at GPV Electronics TH and Mechanics TH.
When the new mechanics factory is finished, and the mechanics production has moved into its new facilities, the current facilities will be refurbished into an extension of our Electronics TH factory.
The GPV mechanics factory in Thailand is currently 7,100 sqm, and the GPV electronics factory in Thailand is 15,000 sqm. When the construction is finished, the mechanics factory will be 12,000 sqm, and the electronics factory will be 22,000 sqm.
After the expansion in both Sri Lanka and Thailand, GPV will have a 100,000 sqm in total.
"The construction projects in Thailand are important steps on our growth journey. The new factory facilities will help us to meet our customers increasing demands and continue to deliver high-quality products," says Bo Lybaek, CEO at GPV.
As part of our journey towards a more sustainable production, the new mechanics factory will have its own solar cell systems for electricity production.
Know more about our locations here.
Sign up and receive the latest news straight in your inbox.