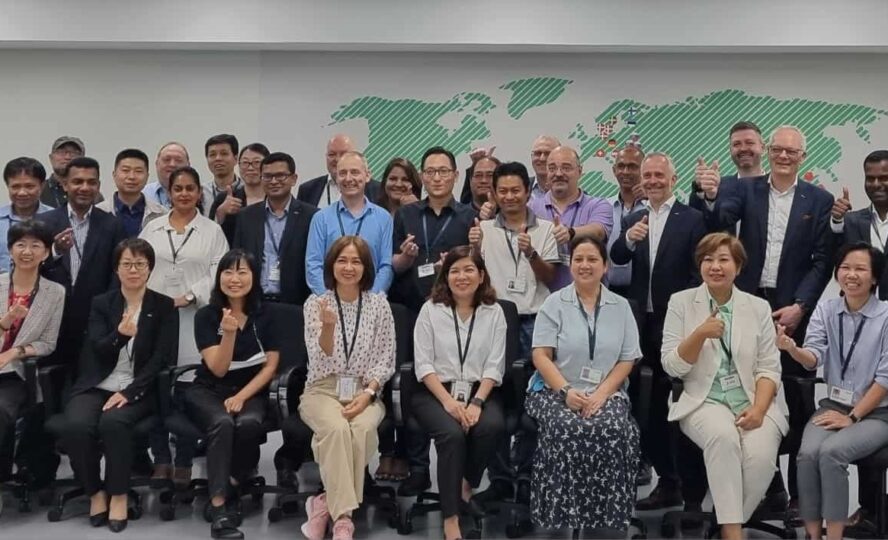 During this week, the GPV Executive Leadership Team conducted the first in a row of Site Engagement Meetings in the new GPV. The management teams from the largest Asian locations met at GPV Electronics TH in Bangkok to discuss strong achievements during 2022, share best practices, and agree on the focus for the next four quarters that will help ensure the continued development of operational excellence and higher customer satisfaction.
The merger between GPV and Enics was completed in October 2022, and since then, the organisation has worked on integrating the two companies. Overnight, the new GPV grew to be the second-largest EMS company with European headquarters, with more than 8,000 dedicated people and an expected annual revenue of around EUR 1.1 billion.
"The Site Engagement Meetings is an important leadership platform in GPV, where we bring together the site responsible and their leadership teams from our various production units. We have clustered the sites into regional units and each meeting includes a joint dinner to acknowledge the positive outcome of socialising and interacting with colleagues across sites. Our history in Asia dates back to the 1980s, and we continue our strong presence in Asia where we produce and service our customers primarily with European and American headquarters," says Bo Lybæk, CEO in GPV.
The meeting was held at the new mechanics factory just 10 days after the hand-over from the construction company on 17 March 2023.
The purpose of the Site Engagement Meetings is to update the Executive Leadership about site status and challenges for the coming period including country specific implications, operational challenges and organisation and factory setup. But it is also to secure a good understanding across the "new" organisation, share knowledge, build on relations, and ensure optimal use of resources.
"Apart from discussing specific initiatives, these meetings give us a unique insight into and understanding of each other across the various professions. This knowledge is included when making decisions on specific business improvement initiatives," says Bo Lybæk.
At the meeting in Bangkok, each site highlighted what they are most proud to have achieved during the last 12 months.
"First of all, it was a great pleasure to hear the sites tell about their greatest achievements – what they were most proud about. It gave a better understanding across sites, and it served as inspiration. In particular, we had a constructive dialogue around networking capital and how we can bring down the high inventory rates," says Bo Lybæk.
The Site Engagement Meetings are held once a year with half a day for each of the participating sites.
Next SEM will take place from 22 to 24 May 2023 at GPV Electronics DK in Aars, Denmark and include the Danish site together with the electronics sites in Germany, Sweden and Finland.
Sign up and receive the latest news straight in your inbox.